Pusan Photos
Welcome to Pusan; land of the $4 cup of coffee and the $1 pack of cigarettes. These are some shots of Pusan, the Institute I work at and some of my students I took in late January, as well as some photos generously (although involuntarily) donated from the Pusan Tourist Commission. Photographs here are extremely expensive to scan, so these ones are selective shots rather than a comprehensive panorama. I hope they give you some impression of what Pusan is like. I arrived here in November 1996 to work as an English as a Second Language Teacher at a private institute here. I haven't regretted coming here once.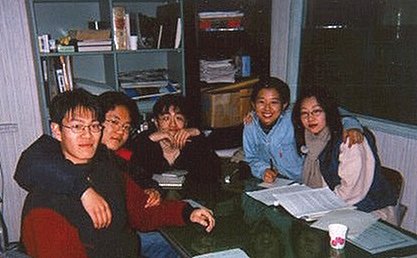 Some of my Beginning English students, January. In Korea it is very common for students to take conversational English classes during their winter break (January-February). Starting from the left, "Nick", Mr. Kim, and "Eric" are all high school students; "Ashley" and "Genie" are university students. I preferred to call them by their Korean names, but they insisted on using their nicknames. What the hell. The guys could be hell-raisers at times, but generally we all had a good time.

Genie is studying to be a Dental Technician and she's going to Australia for a year in September. For Christmas she gave me a plaster mold of her teeth. It turned out to be a GREAT present; I use them as a teaching tool for pronounciation workshops!

In Korea, entrance into universities is extremely competitive, and high school is rather gruelling. Not only do you have to write national exams to get INTO high school, but students must stay at school and study until 6. After supper they must troop off to private institutes for more study in English, math and other subjects. Often they don't get home until 10 pm at night. It's very common to see high school students asleep on the buses. I don't envy them.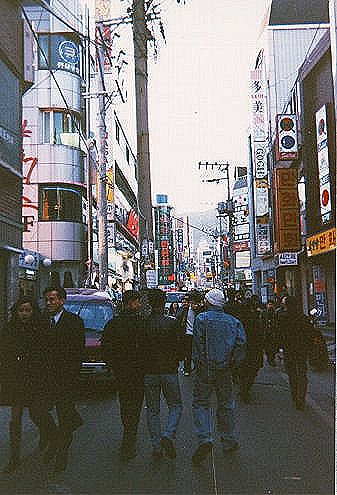 The street outside my Institute, Changjondong district, taken in early January. The street is only two city blocks long, but there are more hofs, restaurants, bars, boutiques, street vendors, hairdressers, shoe stores, tailors, photo shops, coffee shops, and just plain shops than MicMac Mall or the Rideau Centre.




























click here to see next page